Congratulations to Matthew Robinson on his promotion to Senior Consultant
01-Apr-16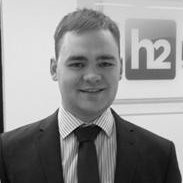 h2 Recruit is pleased to announce the promotion of Matthew Robinson to the position of Senior Consultant.
Matthew joined h2 Recruit in January 2015 as a fresh Physics graduate. Starting off as a candidate consultant, Matthew was quick to rise into a fully-fledged Consultant within a couple of months and has been going from strength to strength ever since. Matthew's promotion came off the back off a fantastic start to 2016, and is currently tracking at 300% on his annual target, placing him at the top of h2 Recruit's leader board for 2016!
Matthews' success comes as a combination of his consultative and intelligent approach to the recruitment process, with a fantastic ability in managing relationships with both candidate and client.
- uk.linkedin.com/in/mattrobinsonh2
Well done to Matthew and we look forward to watching him grow and develop at h2 Recruit in 2016 and beyond.
Back to News...